ABW approaches
ABW is reliant on flexible working spaces that allow employees to choose a place / space that will match the activity they plan to carry out.  An ABW approach might incorporate a number of enablers such as wireless technology, mobile hardware (notebooks, iPads and more) and a paperless existence to be fully integrated and to support a physical environment that promotes flexible work arrangements. These physical changes to the built environment impact on a multitude of areas including work process, cultural expectations, personal preferences, managerial practices, and technology and health1.
Whilst some organisations have introduced fully integrated ABW approaches, they have achieved this via complete office redesign. Given full redesign is not an option for several organisations (footprint and restricted finances), hybrid approaches to ABW are being introduced1.
One thing ABW is not, is a rebrand of 'Hot Desking'. Hot desking is non-allocated seating in a traditional office environment.
What is driving the ABW approach?
There have been a few centrical forces at play in Australia, that have given rise to more and more organisations integrating an ABW approach. A recent survey of 400 multinational corporations found that two-thirds plan to implement shared-desk workplaces by 20202.
Wireless network capability, combined with mobile hardware such as notebooks, tablets and smart phones, are further enabling organisations to mobilise their office based workers.  Activity Based Work environments can now progress at a rapid rate due to these technological enablers. The growing need for organisations to act responsibly and ensure sustainability, both financially and environmentally, are two other key drivers in the move to ABW.
The other forces at play include creating a workplace that differentiates you amongst your competitors and drives retention and attraction.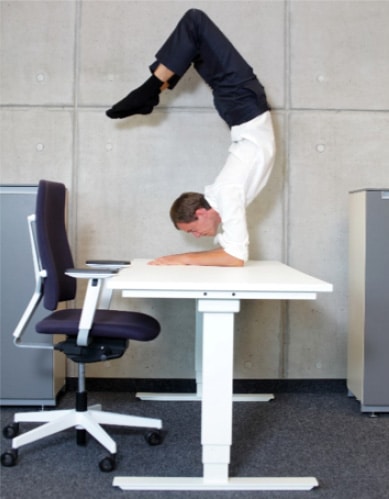 Sitting is the new smoking
Arguments for ABW are now also supported by the need to reduce sedentariness in office workers. 'Sitting is the new smoking' is the phrase that has been reported widely in the media in recent times3. This comment implies that there are serious health risks associated with a sedentary lifestyle, including sitting at work. In 2008, smoking was responsible for 5 million deaths across the world, whilst inactivity caused 5.3 million deaths7.
The adverse health effects of a sedentary lifestyle include musculoskeletal discomfort, metabolic syndrome and type II diabetes, cardiovascular disease cancer, and mortality. It was previously thought that regular moderate exercise offsets the negative aspects of sitting throughout the day at work, though latest research indicates that this is not true7.
Health risks associated with sitting
There have been recent systematic reviews and meta-analyses that have been published regarding the health risks of sitting. As cited in Comcare's "Benefits of Movement – Be Upstanding"8, the five main health risks associated with sitting are:
Musculoskeletal pain;
Metabolic syndrome (this relates to the risk factors for developing diabetes);
Cardiovascular disease cancer; and
Mortality
Furthermore, one Australian study published in 2009, reported that the office based workforce included in the research spent in excess of 70% of the working day sitting9.
The health risks on standing for extended period of time are widely published however it is important to differentiate between extended standing and alternating between sitting and standing.
According to WorkSafe Victoria, work tasks that require people to sit or stand for periods of two hours or more at a time may affect health and safety, productivity, and job satisfaction7.
As awareness in society is realised, organisations are looking to ways to enhance movement amongst their sedentary workforce.
What ABW brings: The good & the bad
The benefits of having a flexible work environment as reported by Morrison and Macky4, can include things raising brand equity, encouraging collaboration, networking and the exchange of knowledge and  skills, improving productivity and mood, and cost savings, to name a few.  These have been well researched and documented since the turn of this century.

There is however a downside to an ABW approach.  An ABW design can have an impact on the Job Demands and Job Resources to a workplace participant.  Comcare Australia recognises that high levels of job demand and low levels of job resources increase the risk of mental stress. The table following lists the type of Job Demands and Resources that can be impacted in an ABW environment.
There are several factors that can increase job demands in an ABW environment and they include Lack of sound and visual privacy.  If an employee is distracted by visual and auditory stimuli in the workplace, they may cope by withdrawing more.  They might then demonstrate higher levels of uncooperative behaviour.  Workplace participants who feel their individuality has been stripped back via clean desk and no desk is home policies, can react with higher levels of uncooperative behaviour.  Those who feel they need to asset their individuality and claim back that which was stripped from them via the lack of territorialism might exhibit behaviours like squatting in offices that are meant to be vacant and claiming 'favourite' spaces.  Depersonalisation, including removal of status, has a negative effect and may reduce positive emotions and increase stress.
Risks associated with an ABW approach
There are a variety of psychosocial, emotional and musculoskeletal risks presenting in workplaces with an ABW design.  We know that Mental Injury claims can arise from hazards that fall into two major categories, Job Demands and Resources 4.8.
Following is a list of risks that might be experienced in an ABW environment:
Those employees with special needs who had previously integrated in a fixed workstation environment with ease with the use of specialist equipment and devices might appear less integrated in an ABW environment.   Principles of equity might be questioned by those you have special needs. To avoid alienation of the 'anchored', the workplace should ensure they have a strategy to address special needs in an ABW environment.
Research and anecdotal experiences supports the need to ensure those who will have job demands and resources modified the most by an ABW considered in the design process.  Anecdotally, we know that those who are most senior and have their own office, car park and other 'personal' identifiers in the workplace, are more likely to feel displaced in an ABW environment, especially if their own office (often a status marker) is removed.   Likewise, if a manager or employee is co-located with a team, and this has not been incorporated in the ABW design, then they may feel their job resources are further depleted.
There are several other risk factors that need to be addressed as part of the ABW approach and most are associated with the changes this brings. Some have a fear of new technology, whilst others have a fear of 'downsizing' from a jam packed under desk pedestal that was their own, to a tub in a locker which is reallocated to them each day. Some have a fear of not being seen by the supervisor who sits nearby them now. They may feel less able to prove they have been 'working hard' if physical presence is taken away.   Perhaps the most vocal complaint heard post ABW moves in Australian workplaces currently is the time wasted to find and place belongings in a locker and then find, place and plug at a desk at the beginning of each work day.
Given that most ABW environments are focussed on reducing footprint, for financial and environmental sustainability reasons, organisations may find themselves in the position of miscalculating usage resulting in overcrowding or employees feeling displaced by 'having nowhere to work' for the day.   This can be addressed during pre-move education in ensuring that people are aware they will need to be mindful of not 'parking' at a desk for the day and they need to be curious and explore.   Combining this with a possible 'parking' space such as a locker can assist in an employee feeling they have somewhere to park something of themselves, somewhere.
Fixed workstation rules no longer apply in the ABW environment, and therefore teams may struggle with the new unwritten rules that apply.  Some such rules can challenge the skills of some employees. An example being if a colleague would like to use a sit/stand desk for a part of the day, but someone else has 'parked' their belongings at that desk and then proceeded to attend meetings in other areas for the day. Negotiation and assertiveness skills need to be drawn upon, which were otherwise not needed in a fixed workstation environment.
If standing workstations are being incorporated into the ABW environment, then the negative implications of prolonged standing can be a risk. As with prolonged sitting, it is important to note that prolonged standing can also have adverse health effects. Compared with sitting, when we stand the workload of the heart and cardiovascular system is increased to maintain blood flow to the brain against the opposing effect of gravity. A literature review of 17 studies conducted in 2002 revealed the health risks associated with prolonged standing included chronic venous insufficiency, musculoskeletal pain of the lower back and feet10. Gregory and Callaghan, 2008, also reported findings linking prolonged standing with such health problems as progression of carotid atherosclerosis and musculoskeletal discomfort11.
Reducing human risks associated with an ABW approach
Based on research and practical experience alone, following is a checklist that Productivity Matters suggests as a starting point to assist organisations during the implementation of an ABW approach. It is not exhaustive and should be discussed and expanded based on an organisations own risk assessment at the outset of their own ABW project:
Decide why ABW?  Consider the pros and cons of the ABW environment carefully before proceeding.

Does our building support the technology needed for an ABW approach?

Define what it is you hope to achieve with ABW5.

Identify Psycho-emotional and Physical Hazards being introduced by the ABW design and complete Risk discussions with the Design. Communicate these with your chosen designers.

Choose a Designer who has experience in ABW environment creation.

Choose a Certified Professional Ergonomist who can assist with User Trials, commentary on equipment and design, and can educate end users before and after entry to the ABW environment.

Check workplace policies support an ABW environment. Make modifications to these if they do not.

Develop a workforce representative group on the design team with age, gender, function, and generational (if applicable) segmentation.

Observe, measure, and consult with the workforce who are moving into ABW.

Identify those with Special Needs and address how their needs will be met in the new ABW environment.

Create a trial floor with proposed ABW layout by the workplace designers. Ensure User Trial surveys, observations, and interviews are collated and fed back to the designers.

Ensure that you are designing mixed use workspaces for a majority of users (eg 20th – 80th percentile of employees). Design for adjustability to accommodate the variances in these population groups.

Decide what your pre-and post move measures of success will be, and decide on how to measure these.

Decide on how to allow personalisation, reduce visual and auditory disruption, and accommodate various sensory profiles of users.

Decide on education format to users. Educate before the move, on Day One, and post move to ensure all users have the best understanding they can of ABW and how it will impact them.
References
Australian Government, Department of Finance, 2014. Flexible & Efficient Workplace Design Guidance. Retrieved 14 July 2016 from https://www.finance.gov.au/publications
The Conversation. Com.  The research on hot-desking and activity-based work isn't so positive. April 12, 2017
Berry, S. (2013). Sitting is the new smoking. The Sydney Morning Herald. Retrieved 14 July 2016 from http://www.smh.com.au/lifestyle/life/sitting-is-the-newsmoking-20130529-2nca0.html
Morrison, RL and Macky, K.A. The Demands and resources arising from shared office spaces. Applied Ergonomics 60 (2017) 103-115
Nagarth, R., Town, A., Green, M. and Wyllie, T. JLL. Activity Based Working.
Owen, N., Healy, G.N., Matthews, C.E., & Dunstan, D.W. (2010). Too much sitting: the population health science of sedentary behaviour. Exercise and Sport Science Reviews, Jul; 38(3): 105-13
WorkSafe Victoria (2006). Office wise: A guide to health & safety in the office (ed.5). WorkSafe Victoria. https://www.worksafe.vic.gov.au/resources/officewise-guide-health-and-safety-office-handbook
Australian Government, Comcare, 2012. Benefits of movement – be upstanding. Retrieved 14 July 2016 from  http://www.comcare.gov.au/__data/assets/pdf_file/0008/107972/Benefits_of_movement_-_be_upstanding!_PDF,_66.9_KB.pdf
Thorp, A., Dunstan, D., Clark, B., Gardiner P., Healy, G., Keegal, T., Owen, N., Winkler, E. (2009). Stand up Australia: Sedentary Behaviours in Workers. Medibank Private Limited. Retrieved 14 July 2016 from http://www.medibank.com.au/Client/Documents/pdfs/Stand_Up_Australia.pdf
McCulloch, J. (2002). Health risks associated with prolonged standing. Work, vol.19, no.2, 201-5
Gregory, D.E., & Callaghan, J.P. (2008). Prolonged standing as a precursor for the development of low back discomfort: An investigation of possible mechanisms. Gait & Posture, 28(1): 86-92.
You might also be interested in